BLT Grilled Cheese
Bacon, lacy swiss cheese, and tomato is what's going on inside the BLT grilled cheese. Hello breakfast!
Ingredients
2 slices egg bread
4 slices cheddar cheese
1-2 slices lacy swiss
4 slices cooked bacon
2 slices tomato
1 tablespoon butter
Instructions
Spread butter on one side of each slice of bread, then stack buttered sides together. Layer 2 slices cheddar on top of bread stack, then bacon slices, then lacy swiss cheese, then tomato and finally the remaining slices of cheese. Place bread buttered side down in a fry pan over medium-high heat. Cover with lid and let cook for 3-4 minutes or until golden.
Reduce heat to medium and flip sandwich to other side and cook for 2-3 minutes or until bread is toasty golden and cheese has melted. The second side will cook faster than the first so watch carefully.
Cut in half and enjoy with homemade tomato soup!
Fried Chicken and Waffle Grilled Cheese
If you thought fried chicken and waffles is a novel concept, then the idea of turning that combo into a cheddar grilled cheese is sure to blow your mind.
Ingredients
1 tablespoon softened butter
1 large waffle or 2 regular small square waffles
2 slices of Cheddar cheese
1 piece of fried chicken (any part), bones and cut into thin/small slices
Directions
Depending on the type of waffle you are using, either cut it in half or split it apart.
On each waffle half, add a slice of cheese. Arrange the fried chicken pieces on one half, then close the sandwich with the other half of the waffle. Gently press the sandwich together.
Heat 1 tablespoon butter in a frying pan over medium low heat. Place the sandwich in pan and press down slightly with a spatula. Cook until the cheese on the bottom half starts to melt. Flip the sandwich over and cook until bottom is toasted and cheese has melted.
Remove the grilled sandwich from the pan and place on plate or cutting board.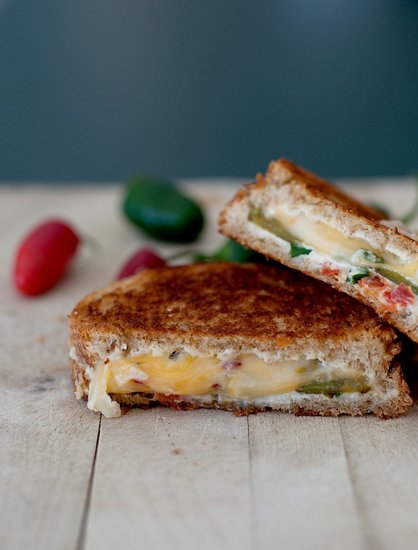 Jalapeño Popper Grilled Cheese
Guilty of popping way too many cream cheese stuffed jalapeños? We're thinking it could be all too easy to overindulge in this grilled cheese rendition of the game day favorite.
Ingredients
4 Jalapenos (small)
1 Tbsp Cream Cheese
½ Tbsp Ranch Dressing
1-2 Tbsp Chives (chopped)
Dehydrated Tomato (two slices)
Cheese
Butter
Bread
Directions
First roast your jalapenos. While the jalapenos are roasting combine the cream cheese, ranch dressing, chives and dehydrated tomato in a bowl, mixing until smooth. Once the jalapenos are done roasting, place them in a Ziploc bag for a few minutes, then peel the skins off, cut them in half and remove the seeds and spines. On one slice of bread spread the cream cheese mixture and lay out your jalapenos, then top with plenty of cheese . Generously butter the outside of your sandwich and cook in a pan on medium heat until golden brown. Slice it In half and dig into this AMAZING grilled cheese sandwich!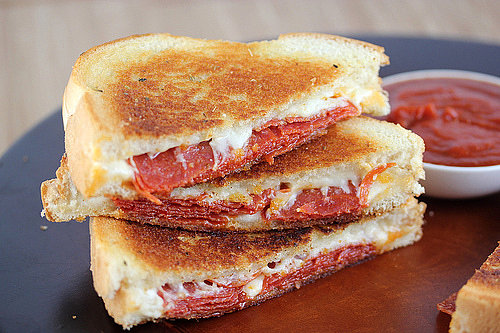 Pepperoni Pizza Grilled Cheese
Dip a pepperoni and mozzarella grilled cheese into marinara sauce for a quick pizza fix.
Ingredients:
8 slices of bread
¼ cup butter (softened)
1/8 teaspoon garlic powder (or more to taste)
1 teaspoon Italian seasoning
1 package sliced pepperoni
8 slices mozzarella cheese
½ cup grated parmesan cheese
pizza sauce (for dipping)
Instructions:
Step 1: In a small bowl mix together softened butter, garlic powder, and Italian seasoning. Warm the sliced pepperoni's for a few seconds in the microwave or on the stove top over medium heat.
Step 2: Pre-heat a skillet to medium heat. Spread the garlic butter over one side of a slice of bread. Place butter side down in the skillet. Top with a slice of mozzarella cheese, as many pepperonis as you want, a little parmesan cheese, and an additional slice of mozzarella cheese. Butter an additional slice of bread with the garlic butter and place butter side up on top the sandwich.
Step 3: Cook in the skillet until lightly browned on the bottom and flip over. Continue cooking until the other side has browned and the cheese has melted. Repeat with remaining sandwiches. Cut in half and serve with pizza sauce for dipping.
(Makes 4 Servings)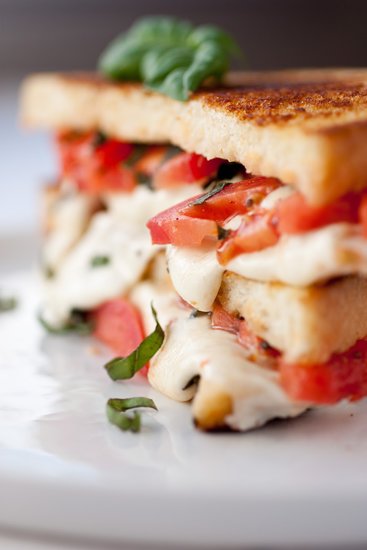 Caprese Grilled Cheese
The basil, mozzarella, and tomato salad begs to be put between two pieces of bread, like in this caprese grilled cheese.
Ingredients
2 slices fresh bread (I recommend sourdough or rustic white bread)
3 oz fresh mozzarella, sliced into rounds or grated*
4 – 6 Roma tomato slices
1 Tbsp chopped, fresh basil ribbons
freshly ground black pepper, to taste
2 tsp extra virgin olive oil or 1 Tbsp butter
1/2 clove of garlic, for rubbing bread
Directions
Layer Mozzarella rounds in an even layer over one slice of bread followed by an even layer of sliced tomatoes. Sprinkle basil ribbons over top and season with ground black pepper to taste, then cover with remaining slice of bread. Drizzle 1 tsp olive oil in a non-stick skillet, heat over medium-low heat and tilt back and forth to evenly coat (heat the oil long enough for it to glide easily across the pan but don't heat it to smoking point before adding sandwich or it the bread will toast before the cheese has a chance to melt. If using butter, spread 1/2 tbsp butter on both top and bottom of sandwich and heat skillet over medium heat), add sandwich, cover with lid and cook until sandwich is golden brown on bottom, about 2 minutes. Then lift sandwich out of skillet and drizzle remaining 1 tsp olive oil into skillet, tilt pan back and forth to evenly coat. Carefully flip sandwich to opposite side then return to skillet, cover with lid and continue to cook until bottom side is golden brown and cheese is melted through. Remove from skillet and lightly brush garlic clove along toasted sides of bread. Serve immediately.
*When I don't have fresh mozzarella on hand I will sometimes use low-moisture part-skim Mozzarella which is also delicious.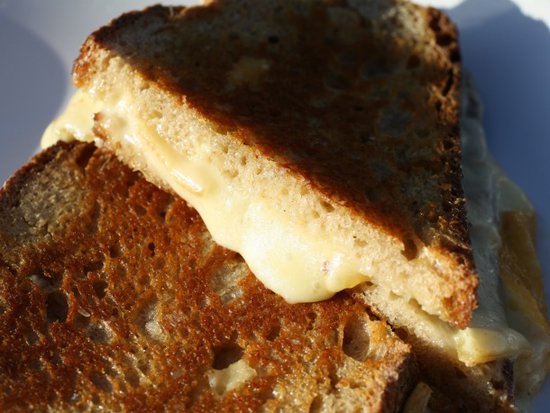 Raclette Grilled Cheese Sandwich
Most of us don't have access to a raclette maker at home, but you can still achieve that signature ooziness by making a raclette grilled cheese. PS, the bread turns crisp from the use of mayonnaise, not butter. Sigh, how wonderful.
INGREDIENTS
2 6¼- x ½-inch slices of pain au levain, preferably Poilâne if you can get it
1 teaspoon good French mayonnaise
Good flaked sea salt, like Maldon
3 ounces sliced raclette cheese
PRODEDURE
Preheat a small nonstick skillet (or a large nonstick skillet, if doing two sandwiches at once) on medium heat.  Use a butter knife to spread the mayonnaise all over the outside of the two slices of bread, and crumble the sea salt onto the mayo-ed bread and press it gently into the bread so it sticks.  Fill the inside of the sandwich (the mayonnaise will face OUT) with the raclette.
Put the sandwich together, cheese on the inside, mayo on the outside, and place in the preheated skillet.  Place another small skillet or a round cake pan on top of the sandwich, and put a heavy can or brick inside to weight the sandwich down.  Grill for 3 minutes, until the bread is golden brown and the cheese is softened.
Flip the sandwich over with a thin spatula, and raise the heat to medium-high.  Replace the weight on top of the sandwich.  Grill for another 2 to 3 minutes, until the bread is golden and crisp and the cheese is completely melted.  The cheese will start oozing out from between the bread and crisping in the pan.  You don't want to loose this—it's what raclette is all about.  Use a silicone spatula to scoot the cheese up next to the crust of the sandwich on all sides, then use the thin metal spatula to lift it out of the pan to a plate.  Cut in half and eat immediately, with cornichons on the side.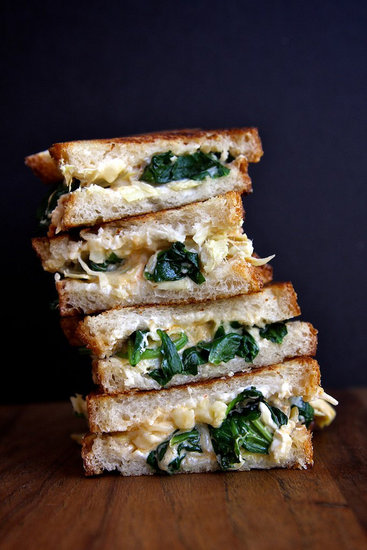 Spinach and Artichoke Grilled Cheese Sandwich
Yes, this spinach and artichoke grilled cheese sandwich tastes exactly like the acclaimed cheesy dip.
Ingredients
splash of olive oil
1 small clove garlic
3 cups (or 3 big handfuls) baby spinach
4 slices bread (I used sourdough)
about 2 tablespoons cream cheese
1/3-1/2 cup grated or crumbled jack cheese
2 tablespoons grated Parmesan cheese
1/2 cup coarsely chopped canned artichoke hearts, drained
1 heaping tablespoon sour cream
1/2 to 1 teaspoon sriracha
large pinch of sea salt
1 tablespoon butter, for grilling the sandwiches
Sandwiches are very personal so the ingredients above are entirely flexible and up to you!
Directions
In a small skillet, heat olive oil over medium-low heat.  Add garlic and saute for 30 seconds.  Add spinach leaves and saute until wilted.  This should happen quickly.  Spinach just wilts in a hot pan.  Remove spinach from skillet, place in a medium bowl and set aside.
Spread each slice of bread with a bit of cream cheese.  You don't need much.  We're using it as edible sandwich glue.
Squeeze or press as much liquid as possible out of the canned artichoke hearts using a paper towel.
To the bowl of sautéed spinach add, jack cheese, Parmesan cheese, chopped artichoke hearts, sour cream, sriracha, and salt.  Stir until combined.
Top two slices of bread with spinach and artichoke filling.  Make sandwiches with the two remaining slices of bread.
Heat butter in a skillet over medium-low heat.  Add sandwiches and grill until each side is golden and the insides are melty warm. Serve immediately.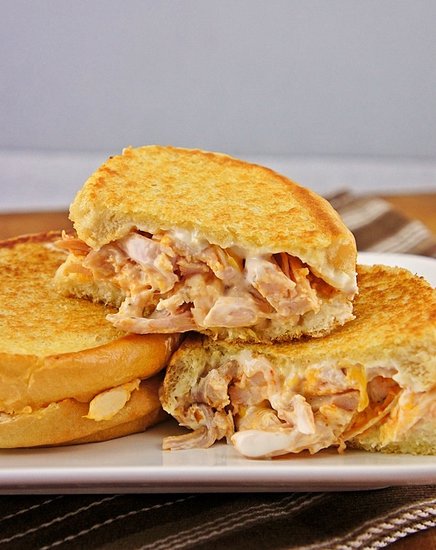 Buffalo Ranch Chicken Grilled Cheese
We're fans of buffalo chicken and buffalo chicken dip, but have you ever tried it in a grilled cheese? Hot sauce, ranch dressing, shredded chicken, and three types of cheese make for a very cheesy toastie, indeed.
Ingredients
1 loaf of soft, thick French Bread, sliced
2 tablespoons butter
1 tablespoon ranch dressing
3 tablespoons cream cheese, softened
2 tablespoons crumbled Feta (or blue cheese)
1 tablespoon shredded cheddar
1/2 cups cooked shredded chicken (from a rotisserie)
1-2 tablespoons Frank's hot sauce
Directions
1. In a medium bowl, combine the ranch dressing, cream cheese, crumbled Feta and shredded cheddar. Stir until smooth.
2. In a another bowl, toss the chicken in the hot sauce until completely coated.
3. Spread the cheese/ranch mixture on one side of 4 slices of bread (this is for two sandwiches). Top two of those slices with shredded chicken, and top that with the other two pieces of bread.
4. Spread some butter on the outside of the sandwiches and grill either in a heated pan or a hot griddle until golden brown.
Roasted Strawberry, Brie, and Chocolate Grilled Cheese
Strawberries dipped in melted chocolate is a divine treat, just as strawberries, bread, and brie is too. Why not put them all together in a gooey grilled cheese? It just makes sense.
Ingredients
makes 2 sandwiches
6 strawberries, quartered
1/2 teaspoon canola oil
pinch of salt
2 tablespoons butter
4 thick-cut slices of multigrain bread
2-3 ounces of brie cheese, sliced
1-2 ounces high-quality chocolate
Directions
Preheat oven to 375 degrees. Toss strawberries with oil and salt, then spread on a baking sheet and roast for 20 minutes.
Heat a large skillet or grilled over medium-low heat. Butter the sides of two slices of bread, place them on the skillet buttered-side down, then layer on a few slices of cheese, chocolate and strawberries. Top with a few more slices of cheese, then butter one side of the other bread slices, and place on top of the cheese. Cook for 2-3 minutes or until the cheese has started to melt, then gently flip the sandwich and cook until golden. Serve immediately!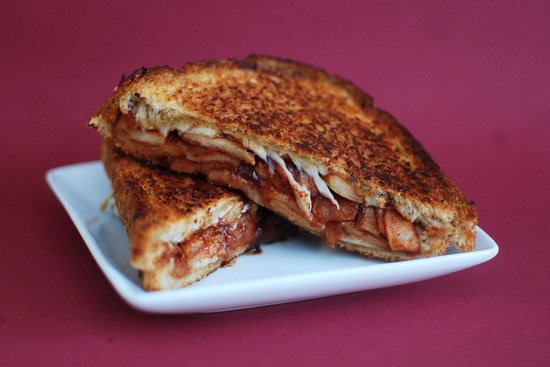 Caramelized Apple Grilled Cheese
We've tried it and believe it; cheddar apple pie is a good thing. When slaving away to make a homemade pie isn't happening, the next best thing is sizzling a caramelized apple grilled cheese.
Ingredients:
1 Tbsp butter
1 Tbsp brown sugar
1 dash of cinnamon
1 apple (peeled, cored and sliced)
2 thick slices of good cheese (cheddar or gouda work well)
2 slices of good bread
1 Tbsp butter
Directions:
Melt the butter in a non-stick pan.
Add the sugar and cinnamon and cook until bubbly.
Add the apples and saute until tender, about 5 minutes.
Assemble sandwich and grill until golden brown on both sides, about 2-4 minutes per side.
Credits :  Anna Monette Roberts